"My favorite Warner Bros. cartoons were dialogue driven, so I was never much for the 'Roadrunner.' But when they finally let Wile E. Coyote speak, he was able to sum up in a few moments that perfect smugness that makes 'modern' man so amusing and annoying. Wile E. Coyote, super genius."

– From the liner notes of Angels, Bones & Clocks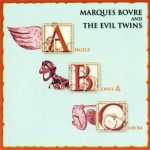 Down in my dreams,
Down in my basement.
Lost in the schemes,
Of my beautiful replacement.
I saw the beams
Of burning sunlight.
They came in streams
At the very stroke of midnight.
Chorus:
Eat the apple,
Split the atom,
Engineer a gene.
Super genius rears his ugly head.
Well he said you died
And it was inside
This picture magazine and how that
Super g. philosophy has spread.
Down in my soul,
Down in my slumber.
Down in the hole
Where my name is just a number.
I sought control.
I came between us.
That was the goal
Of the evil super genius.
repeat chorus
Down in the flame.
Down in the furnace.
We play this game
And we just hope it doesn't burn us.
I call your name,
An incantation.
I call your name
And I pray for transubstantiation.
repeat chorus
"Super Genius" appears on Angels, Bones and Clocks.
---
© and ℗ 2000 Marques Bovre