"You know, I realize racism isn't anything to kid about. And it's been rearing it's ugly and empty head on this campus. But I do hold that there is at least one biological and verifiable difference between a racist and that is that white people have a special lawn care chromosome that insures that they'll spend at least a tenth of their life making sure that their lawn is cut in these precise and mindless diagonals. And they alternate 'em every other week. But I'm a white guy and so I mow a lot of lawns. And it wouldn't be so bad, you know – it's kind of socially acceptable if you got your own lawn to mow. But I'm mowin' other peoples lawns, you know, and that just aint natural. So I wrote this song about bein' 25 years old and mowin' other people's lawns."

-Introduction from a live performance on 25 Jun 1987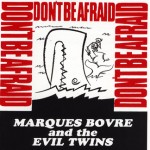 You know that I mow the lawns.
I do my mowin' for cash.
I'll wash your car if you want me to.
I may just take out your trash.
'Cause some spend their summers all body-oiled,
And some simply spend summer blonde.
But me, I'll do anything –
I'll mulch my pride, I'll mow your damn lawn.
They say the college degree,
Is the greatest bargain on Earth.
I got an educated sunburn and bee stings,
I wonder what my knowledge is worth.
But then mowin' the lawns gives me time,
To think about the literature courses I took.
I think next year,
I'm gonna give computer sci a serious look.
You know that Jill jilted me,
For all these grass stains I bear.
She sees a medical intern these days,
And he gives her pre-professional care.
She said she always had a thing for the pretty boys,
And a rich boy is a boy she could boff.
But the lawn boy who's turnin' on the sprinkler's
Simply turnin' her off.
Bridge:
I close my eyes and dream of dandelions –
Visions of crabgrass dance in my head.
The neighbor lady throws me looks,
While the sun slowly cooks,
The doggy doody on the tractor tire tread.
I had my first payin' job,
When I was seven years old.
Cuttin' grass for the neighbor next door,
And it gave me some money to fold.
But I never did trim around the apple tree –
Too late I saw the light, I know where I fell.
And now late at night,
I pray to God there ain't no ridin' mowers in hell.
repeat first verse
"I Mow the Lawns" appears on Don't Be Afraid.
---
© & ℗ 1989 by Marques Bovre