The Medicine Tribute is a 2012 CD release featuring Marques Bovre and the Evil Twins, Marques Bovre and SoDangYang, Honor Among Thieves, Josh Harty Band, Jentri Colello, The Gomers.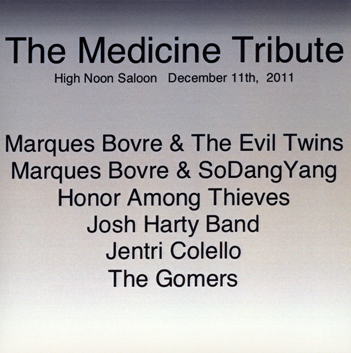 The Gomers
Jentri Colello (with Josh Harty)
Josh Harty Band
Honor Among Thieves
Sorry Song [edit]
Marques Bovre & SoDangYang
Marques Bovre & the Evil Twins

Personnel:
The Gomers
Biff Blumfumgagnge: Fiddle, Vocals
Dave Adler: Keys
Geoff Brady: Drums
Steve Burke: Guitar
Andy Wallman: Vocals, Percussion
Gordon Ranney: Bass
Jentri Colello: Guitar, Vocals
Josh Harty Band
Josh Harty: Guitar, Vocals
Rusty Lee: Keyboards
Chris Sasman: Drums
Louka Patenaude: Bass
Honor Among Theives
Andy Ewen: Guitar, Vocals
Doug DeRosa: Bass, Vocals
Randal Harrison: Fiddle
Joey B. Banks: Drums
SoDangYang
Marques Bovre: Vocals
Maggie Weiser: Guitar, Background Vocals
Ken Stevenson: Bass, Background Vocals
Pete Kaesberg: Drums, Percussion
Ethan Noordyk: Drums, Percussion
Marques Bovre and the Evil Twins
Marques Bovre: Vocals
Eric Dummer: Drums
Linus: Electric Guitar, Background Vocals
Doug Meihsner: Bass, Background Vocals
Production Notes:
Recorded live at the High Noon Saloon on Sunday December 11, 2011. Promotion by Tag Evers. Concert organized by Maggie Weiser and Linus. House mix by Aubrey Ralph. MC: Pat Gallagher. Recording engineered by Tom Blain. Mixed and Mastered by Tom Blain at Ultimate Audio. Released on compact disc on 6/17/2012.
All songs © and ℗ 2012 Marques Bovre
---
Buy this record on CD!
Check the Buy Marques Music page for details.