Nashville Dandelion is a 2012 CD release by Marques Bovre.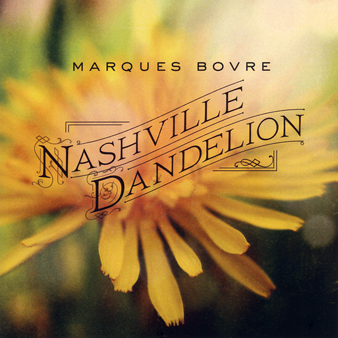 Marques Bovre: Electric Guitar, Vocals
Maggie Weiser: Vocals on Blaze, Dandelion, Love, Mystery, and Somebody Loves You
Billy Contreras: Violin, Steel Guitar, Organ on Jesus Was a Stone Cold Killer
John Frazier: Mandolin
Kevin Knapp: Fretless Electric Bass, Organ, Vocals on Somebody Loves You
Daryl Johnson: Drums
Amanda Contreras: Vocals on Somebody Loves You
All songs written by Marques Bovre ©2012 (GOD)
Produced and Arranged by Kevin Knapp
Recorded at OGM Studio in Nashville, TN by Charlie Chadwick
Additional recordings at The Bomb Shelter in Nashville, TN by Jason Blackburn and Ultimate Audio in Madison, WI by Thomas Blain
Mixed by Andrija Tokic, Jason Blackburn, and Kevin Knapp
Mastered by Andrija Tokic
Art and layout by Karl Knapp
---
Buy this record (CD and digital)!
Check the Buy Marques Music page for details.