Flyover Land is a 1995 CD release from Marques Bovre and the Evil Twins.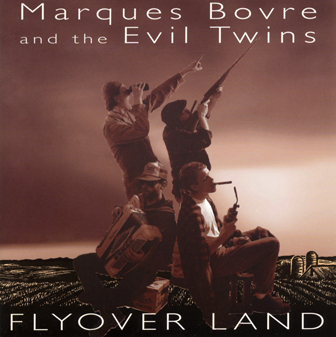 Personnel:
Marques Bovre: Vocals, Background Vocals, Acoustic Guitar, Harmonica
Linus: Electric Guitar, Ebow, Background Vocals
Eric R. Dummer: Drums
Doug Meihsner: Bass Guitar, Background Vocals
With:
Frank Anderson: Pedal Steel Guitar
Tina Gassen: Background Vocals
Siggi Baldursson: Percussion
Production Notes:
Recorded, mixed and mastered at Sleepless Nights Studio in Madison, Wisconsin from February to April 1995 by John Machnik. Produced by John Machnik and MBET. Graphics and Illustration by Mike Laier, assisted by Dale Bengston. Photography by Kent Tenney. Released on compact disc in June of 1995 (Can Do Records 001). Distributed by Don't Records.
All songs © and ℗ 1995 by Marques Bovre
---
Buy this record (digital download)!
Check the Buy Marques Music page for details.